Image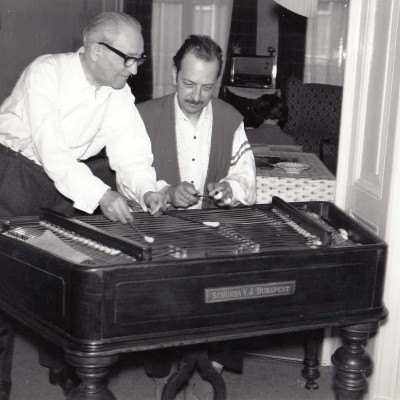 Description
Constant and Jenö Horvath playing the cymbalon, ca. 1963-1974
Image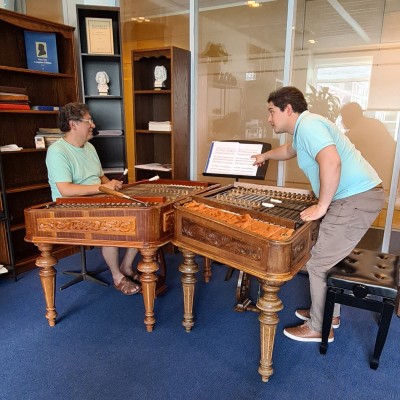 Image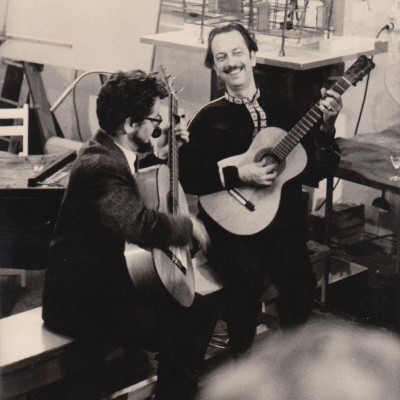 Description
Constant and Pieter van de Staak playing the guitar, ca 1965
Image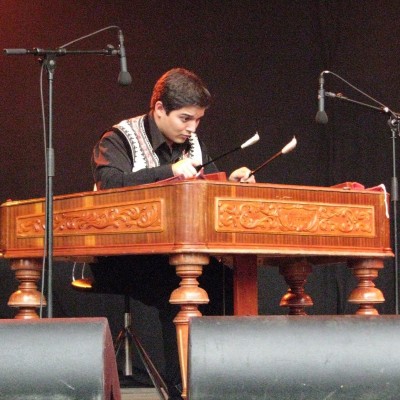 Image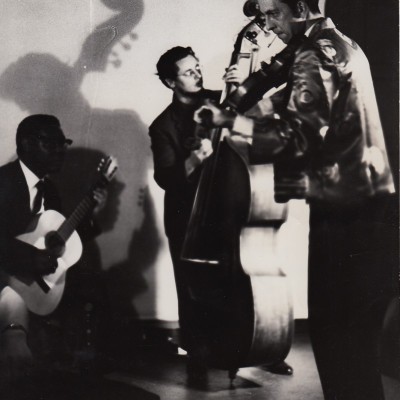 Description
Coco, Staak, Constant (1960)
Image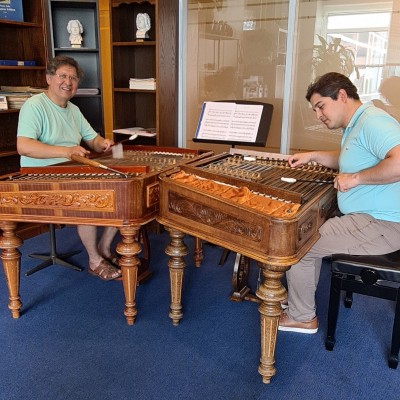 Image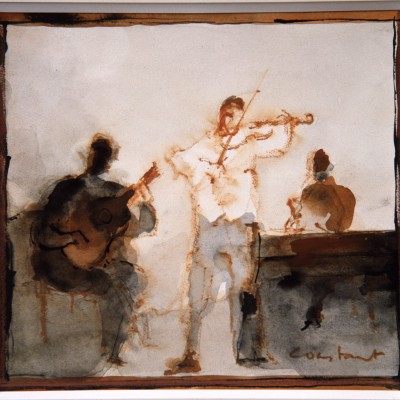 Description
De muzikanten, by Constant (1984)
Image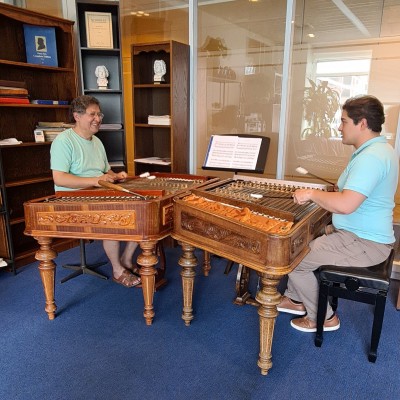 As De Muzikanten, pianist and cimbalom player Dani Luca and his father Vasile Luca, create a musical program of newly arranged musical art pieces. Being both cimbalom players and their relationship as father and son duo makes this project unique. They made a selection of known classical composers (Schubert, Bach, Debussy) and other musical genres, gypsy music and latin music which inspired Constant to some beautiful works of art.
Involved partners
"Making music into something which we can read with our eyes. To create from sound something which can be recognised. Beauty is something which can be seen and music can touch the heart." Said by Dani when he saw the paintings from Constant. 
Constant's own cimbalom will be used in the program. It is an homage to Constant's passion for music and what the music meant in his personal life and what gave inspiration for his work as an artist.
Music was his first love*
Constant Nieuwenhuys is best known as a visual artist and co-founder of CoBrA. Howvere, in addition, Constant also played the violin, guitar and cymbalom. He played the violin since the age of three and learned to play his mothers mandolin as a child and the guitar as a youngster. After gouging in his hand he was no longer able to play the violin. Nevertheless, when he was fourty he learned to play the cymbalom from Jenö Horvath.

Music was part of Constant's daily routine, dominated his social life and populated his work. During his life, he collected 36 instruments, including harps, cymbals, guitars, violins, mandolins, lutes and a sitar. He also traded his work for instruments with other musicians, as well as with the Haags Gemeentemuseum (now Kunstmuseum Den Haag).
*Reference to the song Music was my first love by John Miles in 1976.
How it started
Through a reference from the Nationaal Muziekinstrumenten Fonds pianist and cymbalom player, Dani Luca, became acquainted with Constant's widow Trudy Nieuwenhuys in 2020. Due to lack of space Trudy had to sell one of Constant's three cimbaloms and had expressed a wish to sell the instrument to a (young) musician. Through the purchase, Dani  came into contact with Constant's work. From there the idea to create a music program inspired by Constant's work evolved. Dani and his father would play music arranged cymbalom based on Constant's artwork and his favorite composers and performed with his own instrument. A unique father and son cimbalom duo.
In the program, music and visual art are joined together. Projected through a beamer or by a real piece of art, music is connected to the art of Constant's work. Giving more profound sense to what seems very simple in a painting; A painting is worth a thousand words; Where words stop, music starts. The musical journey walks you through Schubert's Winterreise, Bach's Tenth Prelude and Fugue, Piazzola, Gypsy medley and Debussy. A journey filled with love, sorrow and death.
Image
Image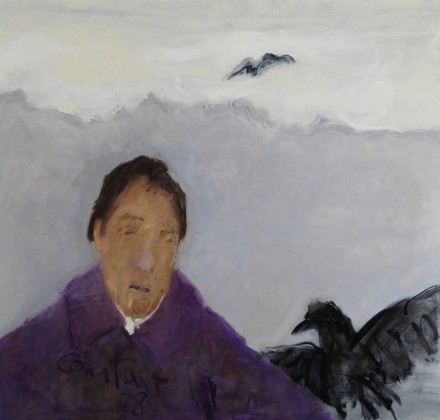 Winterreise as inspiration
Between 1989 and 1998 Constant made a series of watercolors and oil paintings called Winterreise. The paintings depict a solitary figure wandering through a desolate winter landscape. As the title of the series suggests, Constant was inspired by Franz Schubert's Winterreise (Winter Journey), a song cycle for voice and piano set to 24 poems by Wilhelm Müller. At the beginning of Schubert's Winterreise, the "Wanderer" learns that his lover has fallen for another man. He disappears in the dead of night, leaving behind a city that once held much promise for him. His melancholy journey through the freezing cold (even his tears turn to ice) leads him to a cemetery where he desperately seeks eternal shelter, but "all the rooms" are occupied. As he continues into a village, he meets Death on the street disguised as an old hurdy-gurdy. Der Wanderer asks, "Shall I go with you? Will you play your hurdy-gurdy to accompany my songs?"

Schubert composed Winterreise in 1827, a year before his untimely death at the age of 31. The theme of the musical piece is often interpreted as man's search for himself, although others argue that the work is also steeped in socio-political criticism. Constant owned an extensive selection of Schubert's music, but Winterreise was a favorite. He could sing the songs by heart and when he passed away in 2005, Maarten Koningsberger accompanied by pianist Kelvin Grout sang songs from Winterreise at his funeral ceremony at Zorgvlied. Dani and Noa will, in consultation with the widow, choose songs from Schubert's Winterreise and make an arrangement of them for violin and cymbal.
Image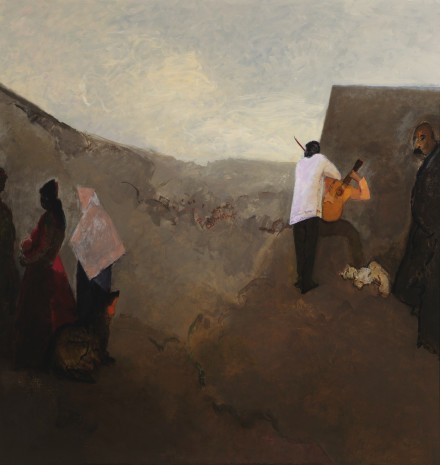 Image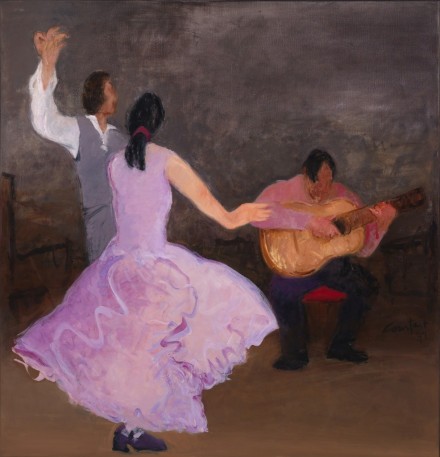 Love, Romance and Flamenco
From 1975 Constant went back to painting and created paintings that, through his use of color and theme, immediately let the viewer in, romantic, accessible and personal. It is these works that inspired Noa Eyl to choose the piece Fille aux cheveux de lin by Claude Debussy to arrange for cymbal and violin. La fille aux cheveux de lin is a musical composition for solo piano. It is the eighth piece in the composer's first book of Préludes, written between late 1909 and early 1910. The piece, named after the poem by Leconte de Lisle, is known for its musical simplicity, a departure from Debussy's style at the time. The prelude is one of Debussy's most recorded pieces, both in its original version and in later arrangements. Romantic, lovely and accessible as Constant's work can be.

The first instrument Constant learns to play is his mother's mandolin. From that moment on, music will play an important role in Constant's life. As an adult, Constant becomes enchanted with largely improvised gypsy folk music and Flamenco. In his work the first reference to Spanish Flamenco appears in 1951, the subject remains a thread of inspiration in Constant's work and life. It is these works that inspired Dani Luca to choose Claude Debussy's piece La sérénade interrompue to arrange for cymbal and violin. It is the ninth of the Préludes, Book I (1909–1910) and is influenced by Impressionism in French painting in 1800. Debussy incorporated influences from Spanish folk music and others into his compositions. In La sérénade interrompue, the Spanish scale is characteristic, as are the dynamic shifts in volume and rhythm. In fact, in the composition, he imitates the sound of the guitar through the short, broken chords and the lyrical melody, which resonates right through the rhythmic movement of the accompaniment. Dani Luca chose this prelude because of these Flamenco-esque elements.
Image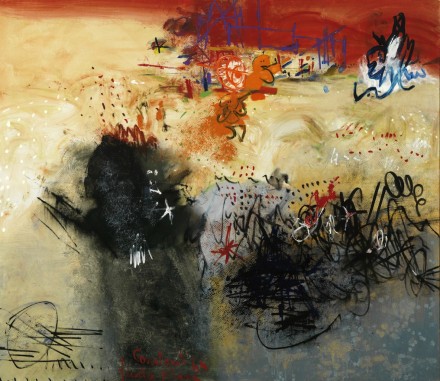 Image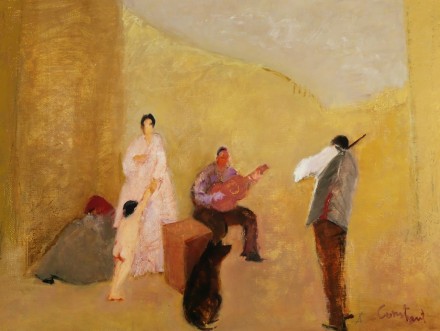 Improvisation
As a teenager Constant learns to read notes and sing in the choir at Jesuit College. But once he plays with others and comes into contact with Flamenco and Gypsy music, he turns to improvisation, never to let it go. Dani and Noa use Constant's works as inspiration for improvisations, using the paintings as a "score." The improvisations are created by working from the color circle of the composer Scriabin (the circle of fifths in colors). The musicians will choose works from the early, pre-CoBrA, and late period, from 1975 onwards. In this way they will take the audience on a sensory journey through the lesser known part of Constant's oeuvre.
Image