Genre
Photographer and filmer Gerrit Schreurs mainly works for museums and cultural institutions. He made documentaries about Anton Corbijn, Johan Creten, Ad Gerritsen, Anton Heyboer, Rob van Koningsbruggen, Igor Mitoraj, Erwin Olaf, Jaume Plensa, Mark Rothko, Niki de Saint Phalle, Luc Tuymans, Michael Wolf and many others. Schreurs doesn't believe in fixed scenarios. He prefers to focus on the creative spontaneity and the intuitive process during shooting the film. Editing his own movies he is looking for exactly the right rhythm of imagery and surprising cross pollinations between interviews with artists and unexpected encounters within their artistic domain.
Image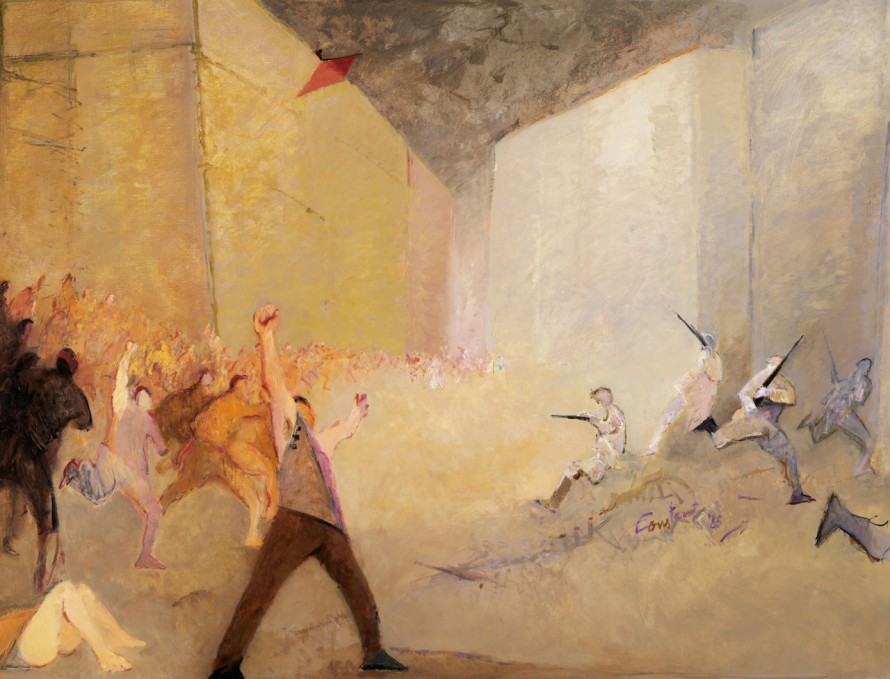 Description
L'insurrection | De opstand, 1985
Making a Video Series on Constant's Work
It is an inspiring and honorable opportunity for Gerrit Schreurs to make several short movies commissioned by Stedelijk Museum Schiedam for the Constant 101 year. In the series I focus on the ongoing influence of Constants work regarding topical issues such as migration, war zones, the role of media and political society. The impressive versatile, experimental and innovative artistic reach of Constant is still as fresh and commanding as when he was part of COBRA, developed his futuristic, organic city-planning project New Babylon or rekindled the Renaissance colorismo technique for his paintings in later life addressing political issues. Schreurs feels especially connected with this constant urge of Constant to experiment and to look for new challenges and adventures. With Constant in mind one can only be inspired to embrace new ideas and possibilities constantly as well and to make one's work feel as the best possible experiment every time.