Talking to Antonio, Antonis and Zippora
When you come together with Antonis Pittas, Antonio Jose Guzman and Zippora Elders to talk about the exhibition Constant 101: The Future Can Be Humane, their artist practice, Constant and the future you can expect it to be a stimulating, intellectual and, with moments, hilarious conversation. A few weeks ago we were complete for the first time since the idea for this exhibition arose in 2019.  Time for a conversation, which I would record in an article… What had I promised?
Image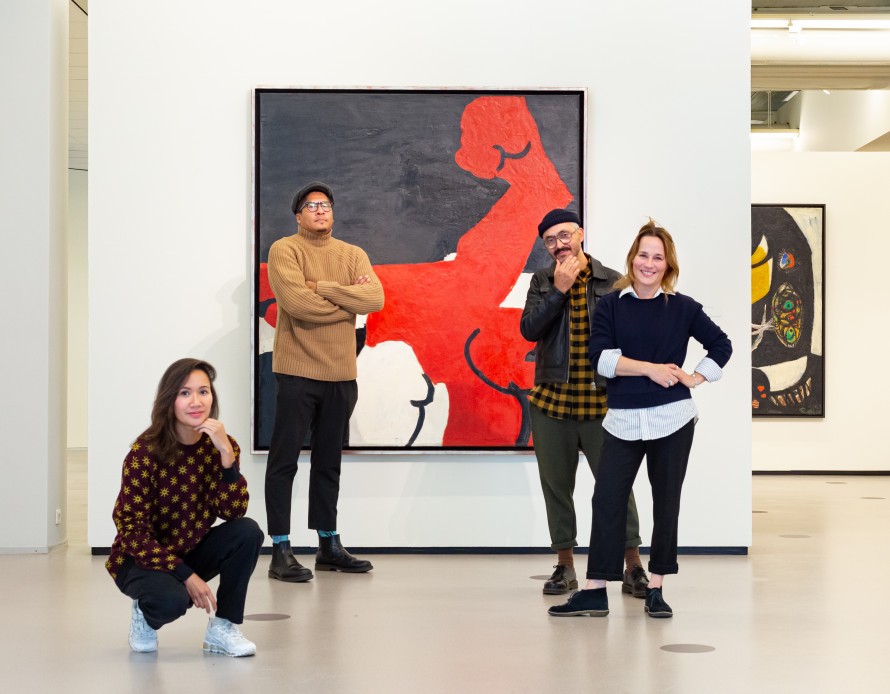 Description
F.l.t.r: Zippora Elders, Antonio Jose Guzman, Antonis Pittas and Kim van der Horst | Photo Peter Tijhuis
In the exhibition The Future Can Be Humane 40 works by Constant are shown alongside new work by Antonio Jose Guzman and an installation, a collection intervention, by Antonis Pittas, brought together by former Cobra Museum curator Hilde de Bruijn. The title is a translation of one of Constant's German text collages, Die kleinen Freuden, from 1972.
The Work
Zippora (ZE): You are both artists who, because of your background and knowledge of history and theory, can think outside the existing structures but at the same time you both work in a hands on way. Can you describe your work for this exhibition?

Antonio (AJG): The Electric Dub Station series is an ongoing project in which I work with textile designer Iva Jankovic until 2030, inspired by the idea of ​​the Homo Ludens. We investigate fabrics dyed with indigo dye in textile patterns based on my own Latin American diasporic DNA. As a dye, indigo is strongly linked to Dutch culture through trade in the seventeenth century, as are sugar, cotton and coffee. It therefore has a link with the Dutch slavery past in the Caribbean and Suriname. Using my own Trans-Atlantic DNA, the pattern research emphasizes the element of the diaspora in our work. For this exhibition I made the Installation: Indigo Republic, which shows five blue humanoid figures of three meters high, dressed in Indigo block-printed Ajrakh fabrics. The Indigo fabrics were developed at Sufiyan Khatri's Indigo House in Ajrakhpur, India and at the Guatemalan women's weaving cooperative Trama Textiles. The Indigo humanoids watch over the exhibit as protective amulets. These gigantic guards have a connection with aspects of Asian, African Yoruba and Latin American culture and a connection with Paul Gilroy's notion of the "Black Atlantic". Because the space in the museum had to be used for other purposes, the statues had to be are mobile and can therefore be set up differently in the room.
ZE: That actually adds an interesting aspect of migration.
Antonis (AP): My installation Don't leave me here is a collection intervention which reflects on refugees and humanitarian crises. In the painting Les expulsés, 1999 Constant captured refugee from Kosovo. In addition to that painting, I have also selected works on paper. These works are very sensitive to light. The daylight on the ground floor of the museum cannot be filtered. I have integrated and reinforced this practical limitation in the work. By means of the curtains, the public can activate the work and create different scenographies.
A Family Project
AP: The challenge in a project like this is not to fetishize the artist, but to activate them. I do not approach Constant from the art historical perspective, where you distance yourself and see the artist as a phenomenon. I try to penetrate Constants' practice and understand the core. I then enter into a dialogue based on my own practice.
AJG: For me, this project is also the unknown vs known. On the one hand, the well-known academic setting, working with Zippora, Antonis and curator Hilde de Bruijn. And on the other side, the unknown, the relationship with Kim from Fondation Constant. This allowed me to almost feel Constant at times. Constant to me is a kind of a pantheon of childhood heroes like: Spiderman, Super Man, Hans Solo, Ché Guevara, on a level with John Lennon and Jimmy Hendrix.
ZE: What is it like to relate to that?
AJG: It was an unknown investigation for me, that personal connection, being able to visit the house, the intimacy of the family relationship. That's how I got inside his world. It almost feels like a family project.
Kim van der Horst (KvdH): That is actually a challenge for me, as an estate manager. As a family, my mother and I are never objective, so the question is always whether you have enough voices around you to counterbalance that subjectivity.
ZE: You are of course a private foundation, but objectivity is not guaranteed with public institutions either.
KvdH: It's about the stories for me; I want to invite as many perspectives as possible; the anecdotes you know, the history you gradually discover and the new stories that arise in the dialogue between Constant's work and that of contemporary makers. I am also aware of the fact that, as an estate manager, I am the last generation to have known Constant personally. This has the advantage of the personal approach, but you also have to watch out for the bias it carries.
AP: I study modernism and came across Constant as a present. Through the relationship with Kim and Trudy, the human aspect was introduced. Of course, you always see that aspect in the work. It can never be completely separated from each other, but the contact with the foundation made it more tangible and exciting.
ZE: This was also a reason for me to join the Constant 101 project as a curator-at-large. I am also an art historian and then you can suddenly walk around Constant's house and meet his wife. You suddenly get so close to the stories, you get to see what kind of person he was. As a curator you are naturally interested in the artist's practice, but that personal element does add something.
For Constant 101, we went in search of various artist practices, institutes and disciplines to help us look to the future. In order to collect different perspectives, but also to reflect on such a canonical artist, can we escape the narrative of the canon and give space to the homo ludens?
Image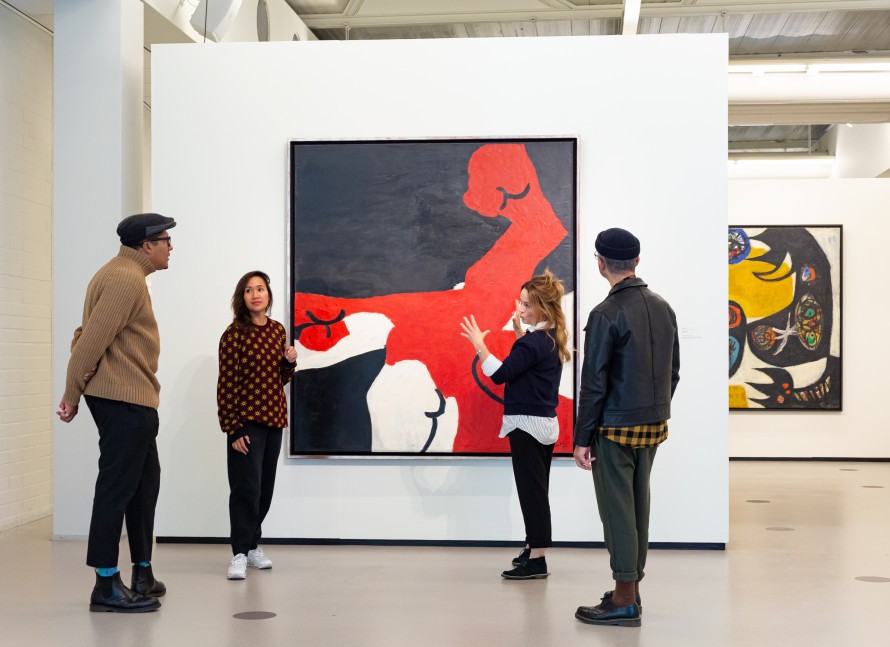 Southern Connection
AJG: I've always wondered why Constant feels so close to me. When Kim and I drove here, the penny dropped. Kim talked about the success of the 2015 retrospective at the Reina Sofia in Madrid, that the catalog sold out within a month and that a Spanish publisher is now the first to publish Constant's unpublished manuscript New Babylon, sketch for a culture (circa 1965) in the Spanish.
It makes you wonder why Constant's work resonates so strongly in Spain? In my view you have the Spain of Franco and that of Garcia Lorca. Constant, of course, is on the side of Garcia Lorca. Constant is perhaps better understood in Spain because of the left intellectual ideology, which is more prevalent there.
Suddenly, I understood my own relationship with Constant much better. I come from a home of socialist Christians in Panama, where the Workers' Party fought against North America and took action against America's appropriation of the Panama Canal.
AP: It is interesting how that connection to the south resurfaces again.
ZE: You have both studied the art history of the Netherlands in relation to that of southern countries, how do you see that?
AP: In Greece, modernism is very strongly represented. It really is part of everyday life. There is always a search for something new, something better.
ZE: Which is also very post-war, Cobra-esque. The utopia was of course also necessary and in fact is also personal because it also takes ego to think so big, or perhaps youthfulness.
(Everyone laughs)
Modernism
AP: In my work I focus, among other things, on the failure of the promise of modernism. Constant constructs a vision of the future and then he deconstructs it again with his realistic work from the late 1970s. If you look at the transitions in his work, you notice the circle. With his later coloristic work he returns to reality. This circle in his oeuvre is very important for the context. That makes his work attractive to me, the relationship with current events that we are confronted with. In the selection for my installation I tried to clarify that circle, to understand that moment of realization. As an artist I think he was lucky to have been able to go through all those phases.
Kim: That later work also feels more personal, you get closer to him as a person. But at the same time, by taking up painting again in the mid-seventies, he also went against the conventions of the time.
AP: Constant certainly comes from a generation of 20th century artists who operated at the intersection of modern and contemporary art, but what made him such a pioneer is that the political aspect was so strongly represented in his work. He wasn't alone, of course, but he was a pioneer nonetheless.
Neo-liberalism and the future
AJG: For me it is also the playfulness of the Homo Ludens and the link with the child in the Cobra work that attracts me. This also applies to Indigo Republic in the poetry, music and processing of the fabrics with block prints. At the same time, his work also resonates for me with the futuristic aspect, Afro-Futurism, Star Wars, Star Trek, William Gibson, Bladerunner, The Matrix, the eternal struggle between free and not free.
ZE: Yes, New Babylon, like Afro-Futurism, is something that does not yet exist within the current structure, a vision.
AP: It also follows on from Russian Constructivism, which attempted to answer questions with utopian forms. It is late modernism.
AJG: In Panama, the socialist party was very big. It was not futurism, but more the idea that we were building the future of tomorrow. It wasn't until after the attack on the Twin Towers that I realized it wasn't going to happen. I stopped believing in that notion. The reason why I left Panama — the commercial force majeure — manifested itself from 2010 in the Netherlands. That was different when I came to the Netherlands, then the PVDA was a large party and there were squatters.
ZE: Neo-Liberalism in the Netherlands is almost a truth, not even an ideology anymore. There is now an entire generation that doesn't know any better. Really scary.
AP: This is a global phenomenon. I think Constant, Antonio and myself try in our art practice to activate consciousness and at the same time to take responsibility. So don't believe that better times will come, but be active, critical and part of the change. I think we should remain optimistic. The next generation is very active, very different from my generation. They don't take it anymore, I think that's hopeful.
ZE: They demand fluidity in everyday life. They go to the root of the problem and transform it and they have a less anthropocentric perspective. This is also connected to the driving force in Constant's work that I hope is an inspiration, or at least that I am inspired by. In fact, Constant's work is also fluid due to the different techniques he used and phases he went through in his oeuvre. From experimental, to abstract, to spatial, to colouristic.
AP: This generation obviously doesn't have the luxury of time, so maybe there's less room for symbolism, but there's more action.
Magic
ZE: The diaspora is very important in my curatorial practice, so it's very relevant to me that we bring this aspect to the foreground in Constant's work. Especially considering the issues we are currently confronted with. Many personal stories and knowledge come together in this exhibition.The confrontation of the different works brings a certain soul into space, as if Constant's work is magically extended.
KvdH: Every time I see an artist enter into a dialogue with an aspect of Constant's work and ideas, I get goosebumps. Everyone resonates with a different part of his work or ideas. There is a lot of energy in the manifestation of that. We cannot know what Constant would have wanted, but I do think that with the links that are made in this exhibition, we honor his spirit of connection.
AP: As an artist, I'd like to see people do that with my work when I'm gone.
Written by Kim van der Horst
Image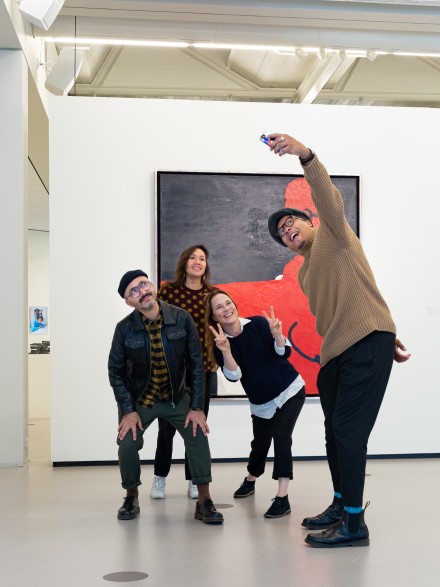 Image