Episode 4 of Constant 1-on-1 the podcast is out!
The final episode of Constant 1-on-1 The podcast is online now! This four-episode series dives into Constant's practice as an artist, his life and the context in which he operated and built his oeuvre. Ans Boersma and Thijs van Elten dig into the archive and question friends, art historians and contemporary artists about the relevance of a legacy like Constant's in today's world. Listen here or find Constant 1-on-1 The podcast on Spotify or wherever you listen to podcasts.
Image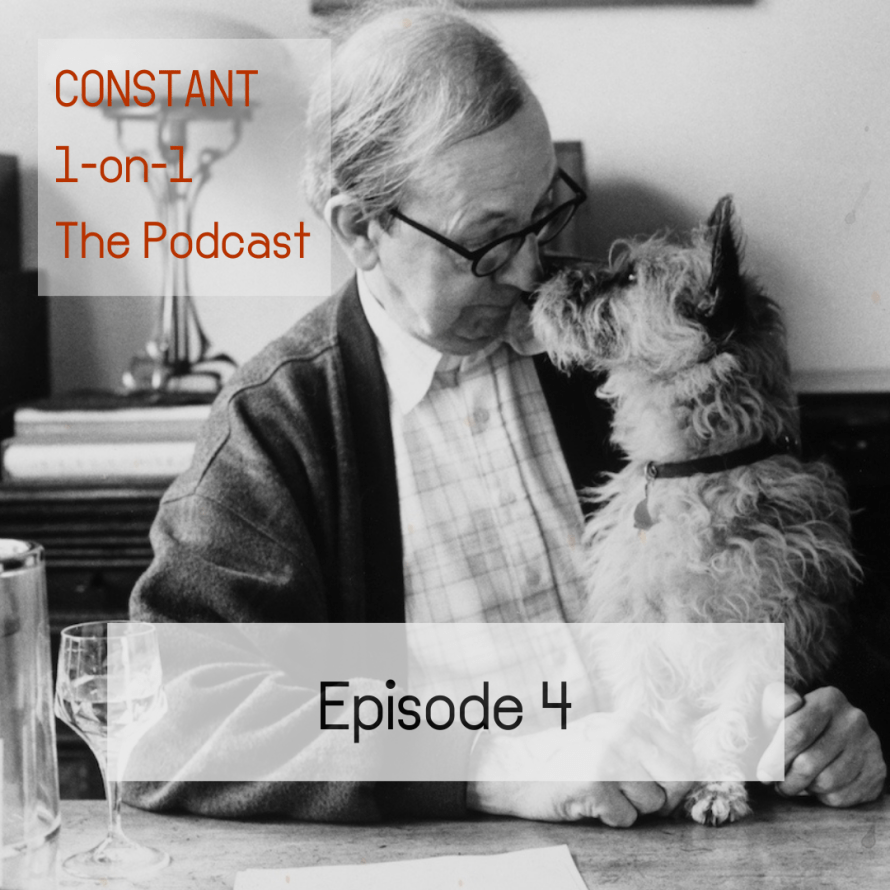 Description
Constant and his dog Tikus at home in Amsterdam, 1996. Photo: Cora de Vries.
Dreamer
In episode three we have explored in which ways Constant himself was a homo ludens and what role music played in his life (and work). In this last episode we pick up the story mid seventies. Constant has concluded his New Babylon project and has started painting again. He is looking for new inspiration and finds it with the old masters. He meets Fanny Kelk and she inspires him on this new path. In this episode we look at how Constant's art changed and what led him to these changes? And we touch on the big question that every artist asks themselves at the end of their life: is my life's work finished?
Interviewees
This episode investigates what Constant's influence is on artists and architects today. What can we learn from Constant today, and how do his ideals and vision help us with problems and challenges that society faces? Episode four features contemporary artists and architects, curators and people who knew Constant during these last years.
Kim van der Horst: director at Fondation Constant
Laura Stamps: curator of Modern and Contemporary Art at Kunstmuseum Den Haag
Floris Alkemade: architect and former government architect
Ludo van Halem: curator of 20th Century Art at Rijksmuseum
Antonis Pittas: artist
Alex Timmerman: musician and friend of Constant
Image

Constant and Trudy
Trudy was Constant's fourth and last wife. They meet in 1994 and within the first year, Constant proposes. Although Trudy rejects him at first, they eventually get married. However, as a modern and self sufficient women Trudy is not that eager to give up her house which is partly the office for her business. It proves challenging to find a place to live that meets each of their needs, business, home studio, music room, library and close to Constant's studio in Amsterdam. They find a solution that works for both of them: they decide to have a modern 'living apart together' relationship, with Constant living in Amsterdam and Trudy in Utrecht.
Image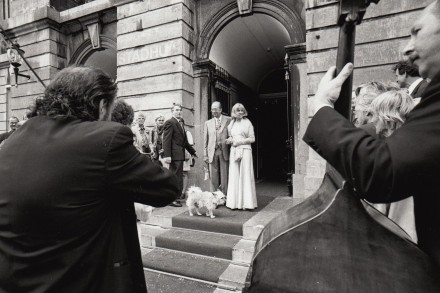 Description
Constant and Trudy's wedding, in front of the city hall of Utrecht, 1997. Photo: Bas Czerwinsky.
Image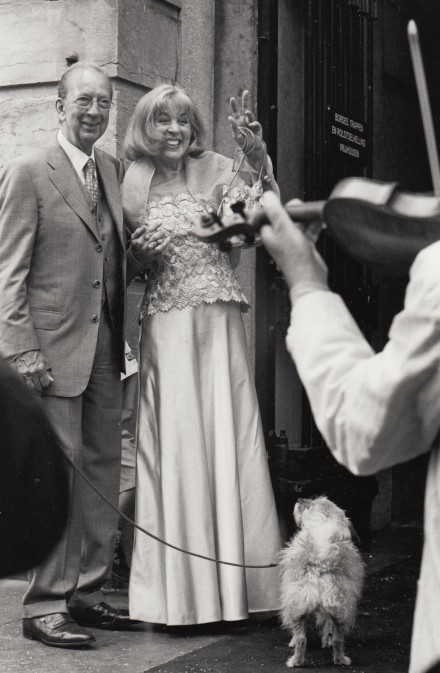 Image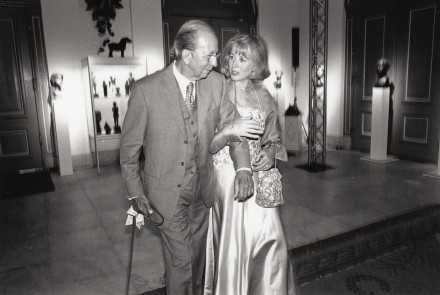 The End of New Babylon
The Vietnam War has a large impact on his work. On April 30th, 1970 Nixon adresses the nation on television. He states that instead of withdrawing the 150.000 troops from Cambodja, he intends to send extra troops thereby prolonging the Vietnam war. On May 1st, 1970 Constant creates the collage Mekong River with the newspaper clippings from Het Parool. It is the first of many collages in which he challenges the Vietnam War. It is a pivotal work that signals the end of New Babylon. Reality has entered Constant's vision for the future and with that the end of New Babylon is heralded.
From this moment on, aggression and destruction enter the New Babylon works. Examples of these works are Erotic Space (1971), La revolte (1972), Espace en destruction (1972) and Le viol (The Rape, 1974). Constant realizes that the people of his time are not yet ready to become a homo ludens, the playful and creative inhabitant of New Babylon.
Image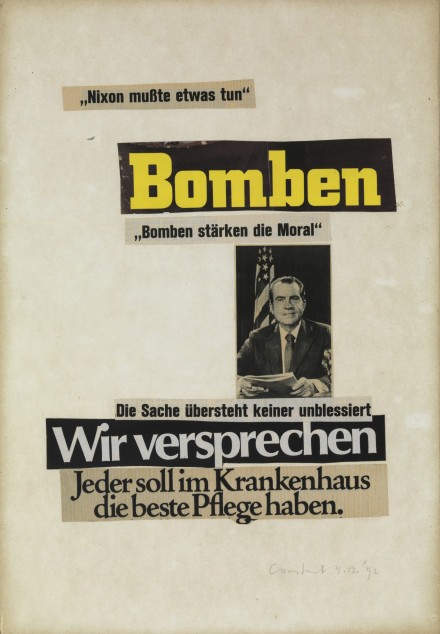 Description
Nixon musste etwas tun, 1972, collage, Collection Fondation Constant
Image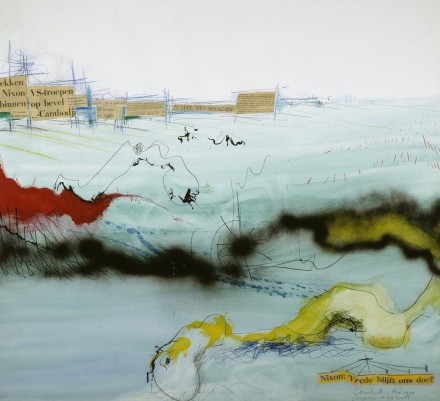 Image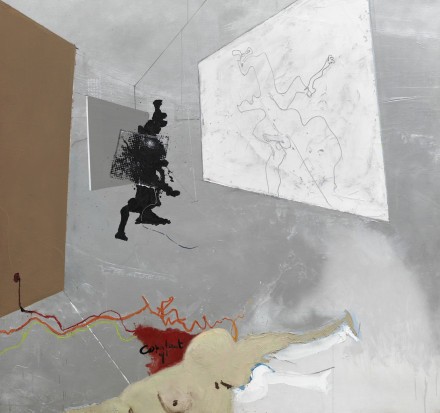 Image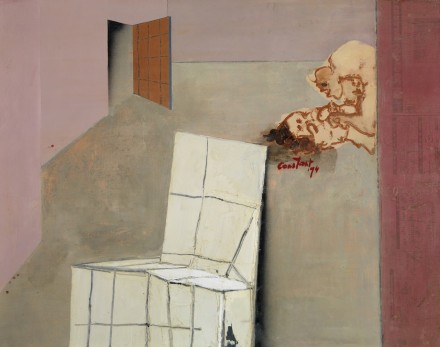 Image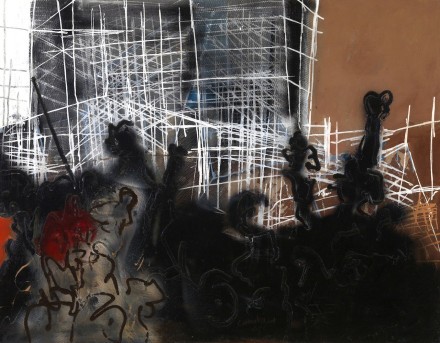 Image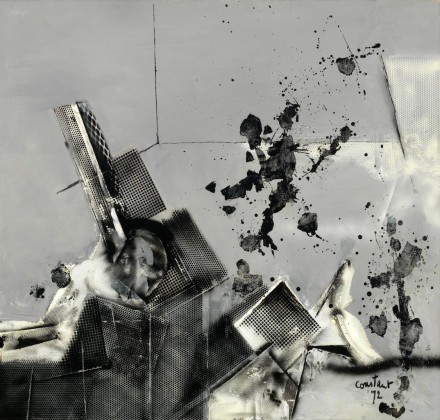 Description
Espace en destruction, 1972
A period of transition
In 1974 the New Babylon project comes to a close with a large retrospective exhibition in Kunstmuseum Den Haag. Before this exhibition art critic Fanny Kelk interviews him – Constant and Fanny fall in love. She is an important, stimulating figure in the transitional phase he goes through between 1974-78, in which he fully returns to painting and starts looking to the old masters for inspiration. He makes a series of several extremely theatrical works, including Casanova s'associe avec le morale (Casanova associates with Morality, 1975), Cyrano déclare son amour (Cyrano Declares His Love, 1976), Plaisir et tristesse de l'amour (Pleasure and sadness of Love, 1976), and De bekering van Venus (The Conversion of Venus, 1977).
Image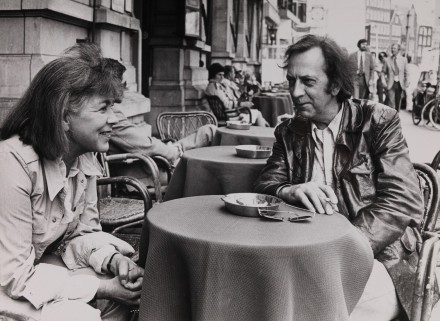 Description
Fanny Kelk interviews Constant on a terrace on the Rokin for the catalogue Een illustratie van vrijheid (An Illustration of Freedom) in honour of the David Röell Award in 1974. Photo: Victor Nieuwenhuys.
Image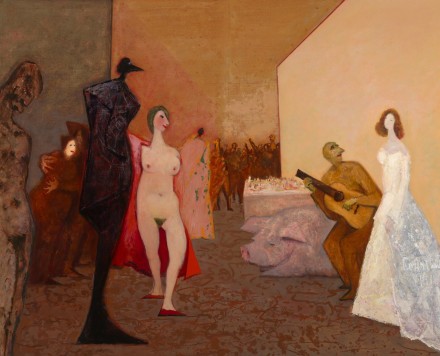 Description
De bekering van Venus, 1979
Image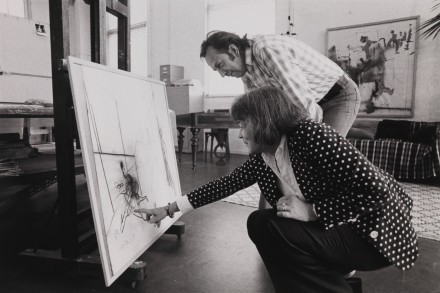 Description
Constant and Fanny Kelk at studio Wittenburg in Amsterdam, 1974. Photo: Victor Nieuwenhuys
Image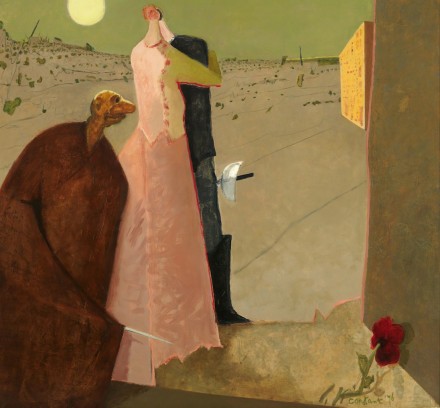 Description
Cyrano déclare son amour, 1976
Image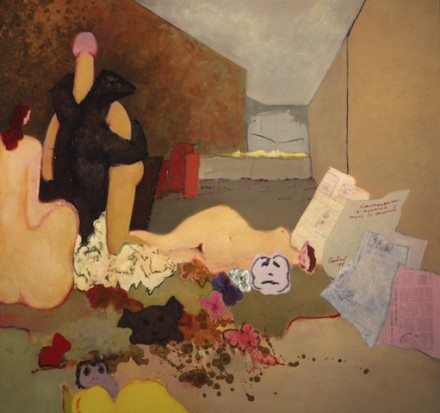 Description
Casanova s'associe avec le morale, 1975
Image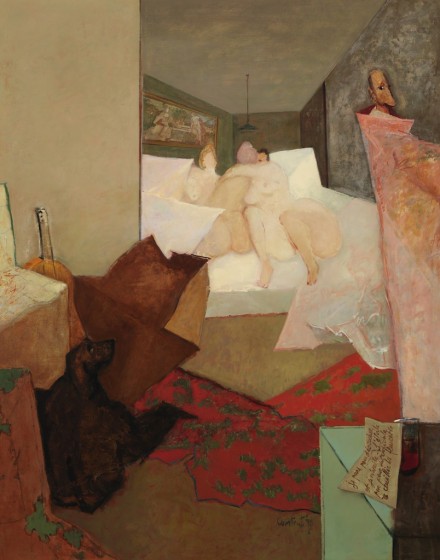 Description
Plaisir et tristesse de l'amour, 1976
Constant's Watercolours
Curator Ludo van Halem talks about the watercolour paintings from after 1975. He calls Constant's method a very pure form of watercolour painting: searching for shapes that emerge from the watery stains he creates. Many of these watercolour paintings show Constant's personal world, depicting for example his dog Tikus and the people around him.
Image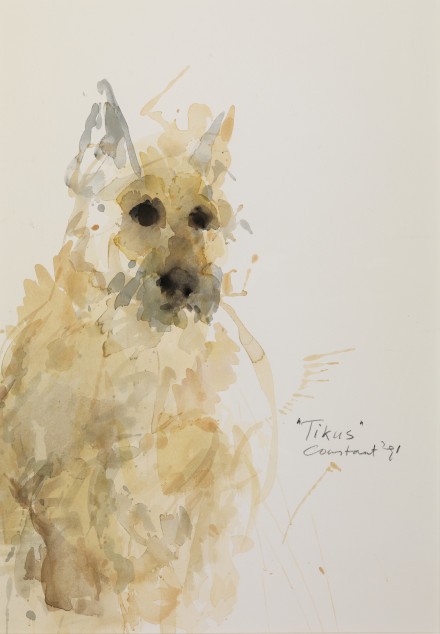 Image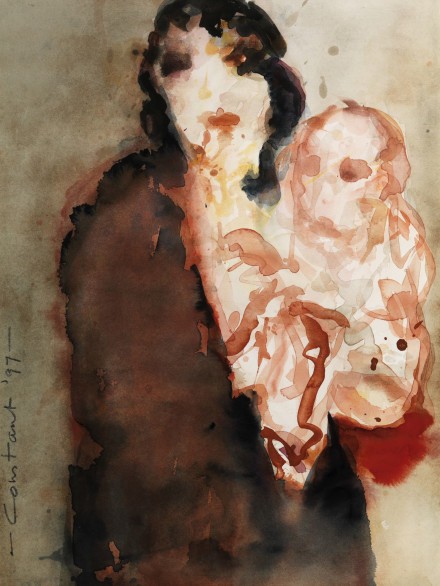 Image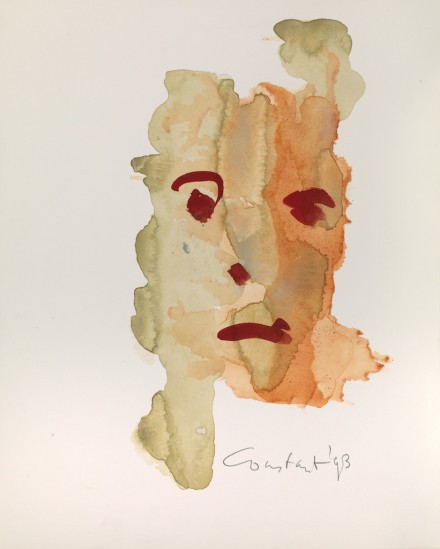 Image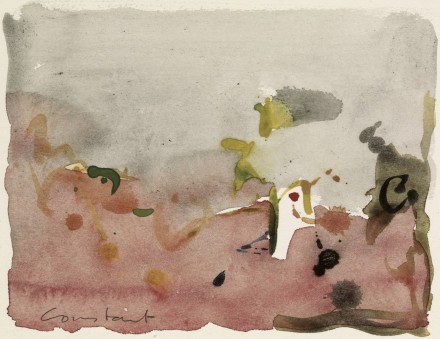 Getting Closer
In Constant's last artistic phase, we get closest to him as an artist: all his thoughts and big ideas are still incorporated in his work, but it gets more personal, we are allowed closer to the people on the canvas. Van der Horst describes two paintings that depict quite heavy scenes, L'interrogatoire (The Interrogation, 1983) and De wees (The Orphan, 1995). We can see the vulnerability, but Van der Horst also feels a sense of resilience and hopefulness.
This is especially recognizable, she says, in Constant's painting Les expulsés (The Expelled, 1999), which was likely inspired by a cover of Time Magazine in that same year by photo journalist Damir Sagolj. The photo shows a mother wearing a white headscarf with her child at her breast, in a long line of refugees. In his painting, however, Constant changes the viewpoint. Instead of the spectators looking at the refugees coming at them he places them at the back of the line, he makes them part of the scene. By giving the girl in the painting a pink dress similar to the color on the baby's wrap, it is like Constant is willing her to survive, to grow up. In the podcast Kim calls the painting Les refugiees but she means the painting Les expulsés (1999).
Image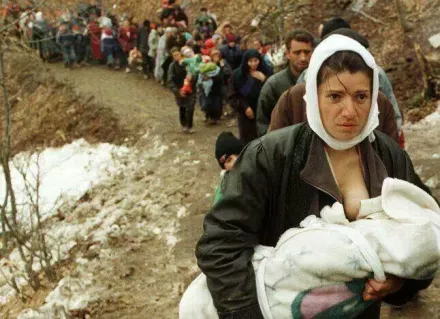 Description
Kosovo refugee convoy, 1999. Photo: Damir Sagolj
Image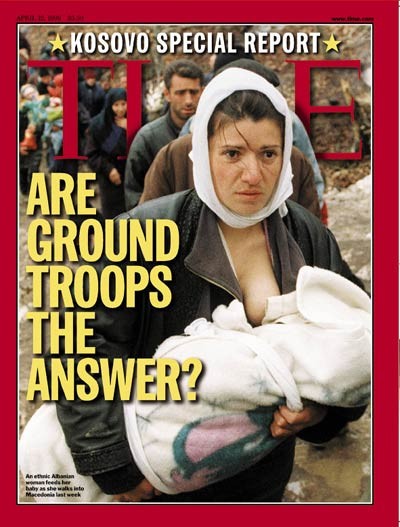 Description
Time Magazine Cover, April 12th, 1999
Image
Connecting and collaborating
Van der Horst regularly seeks collaborations with artists inspired by Constant. Antonis Pittas is one of them. The work of Antonis Pittas focuses on contemporary social and political issues and is characterised by a strong sense of history. He primarily creates context-sensitive installations, influenced by architecture and design, art-historical references, the performative aspects of installation art and its social dynamics. Central to Pittas' practice is the question of how the past relates to the present, and vice versa.
For the exhibition Constant 101: The Future Can Be Humane, which ran from 5 November 2021 until 6 March 2022 at Cobra Museum for Modern Art (Amstelveen, NL), Pittas created an installation called Don't Forget Me Here. The installation featured a selection of works by Constant from his Cobra period till his late period with the central theme of war and exile. Some of the featured works were the lithographs of the series 8x La guerre (8x War, 1951) and Spiegelzaal (Hall of Mirrors, 1972). 
The selection emphasizes the image of Constant as an artist with an undaunted belief in a better world, in which collectivity, peace and creativity would prevail. In addition to the curation, Antonis Pittas' created a spatial and layered installation with an emphasis on the theme of migration, or nomadic humankind; an interest that can be found early on in Constant's oeuvre. Some of these works were initially hidden from view by curtains with short texts on them. The texts consisted of news fragments with which Pittas drew both a direct and an associative line between the present – in which (involuntary) migration plays such a major role – and the time in which Constant lived. Hosts of the Cobra Museum would open the curtains for visitors and start a conversation with them.
Image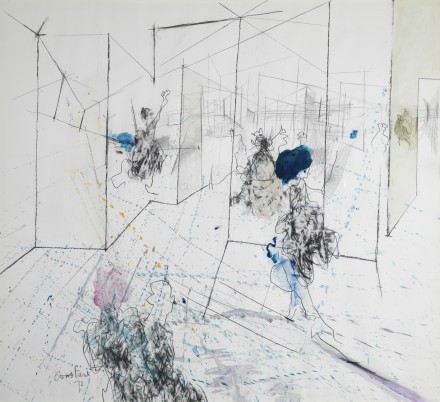 Image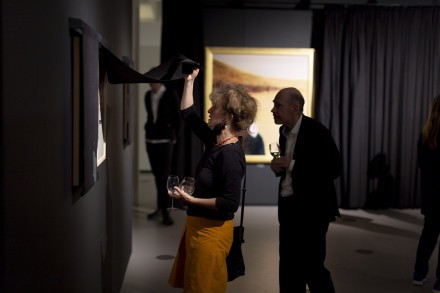 Image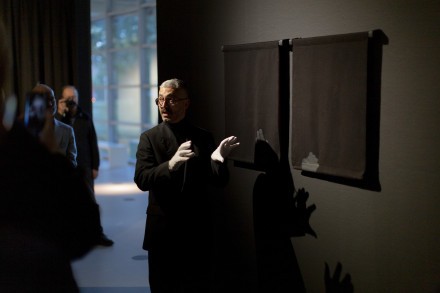 Image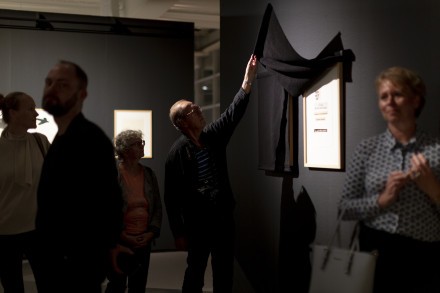 Constantly in dialogue
Van der Horst believes that ultimately, Constant's work belongs amongst other artists' work, around the world. Between like-minded, but also contrary voices, continuing a dialogue between the artworks. 
At the Reina Sofia in Madrid, for example, his work is located in the section for the Situationist International (a group Constant was also a part of), but it is also the same museum in which Picasso's iconic Guernica is located. Very fitting, she finds: the Guernica is one of Picasso's most socially critical works, in which he really goes into discussion with the world. Constant had also always done that. 
The lithograph series 8x La guerre (8x War) by Constant is housed at the Reina Sofia. She finds one of the lithographs, which depicts a flying dove about to be stabbed by a knife-holding cat, particularly striking. The work still speaks to contemporary issues and the Guernica has a similar power. Art is finished, she says, but also never truly finished, because every time someone looks at it, that dialogue begins anew and is different from the one before.
Image

Description
8x La guerre, 1951 [8x War]
Image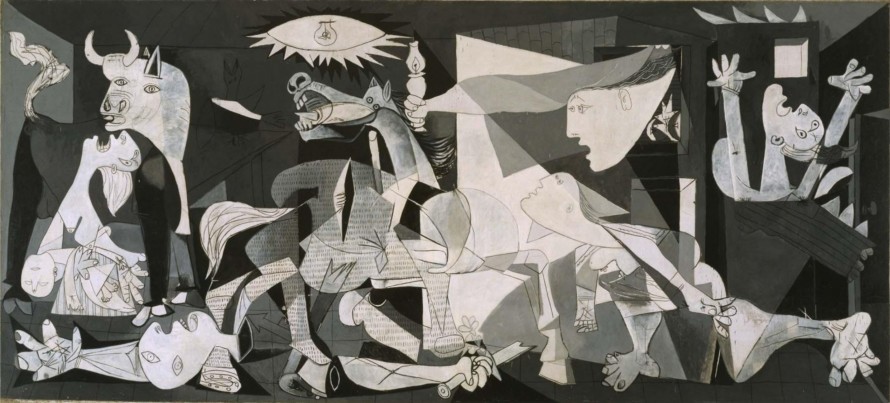 Description
Pablo Picasso. Guernica, 1937. Source: Museo Nacional Centro de Arte Reina Sofía
An inspiration
Curator Laura Stamps thinks New Babylon has gained more public attention in recent years, because of several contemporary artists that have clearly been acquainted with Constant's project. Tomás Saraceno, an Argentinian artist, with his Cloud Cities, for example: floating, cloud-like architectural construction, as a new home for future societies. 
Another is American artist Julie Mehretu, who creates politically charged landscapes. They are inspired by the psycho-geographical landscapes of the Situationist International artists, which Constant was a part of, who would walk around the city and feel the 'atmosphere' in different places. They would then cut out sections from city plans and connect them based on intensity, creating a new reality. 
Van Halem names Armando, a Dutch artist and writer who was a bit younger than Constant, as an artist who was very much inspired by him. Within the ZERO movement, which Armando was a part of, Constant's work is visible and Provo, a Dutch counterculture movement in the 1960's, embraces the New Babylon ideas and publishes a magazine fully devoted to New Babylon. To this day, architects and artists are inspired by Constant's grand and diverse oeuvre, see for example Jonas Staal's project New New Babylon for Rijksmuseum Twenthe.
Image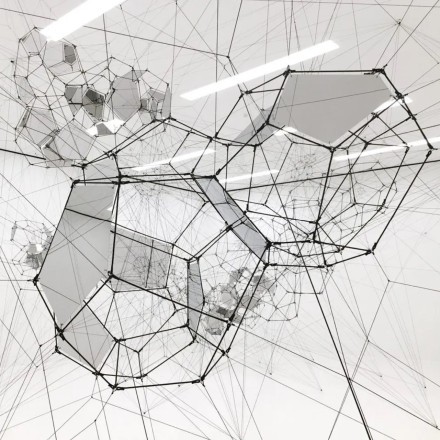 Description
Tomás Saraceno. Stillness in Motion—Cloud Cities, 2016
Image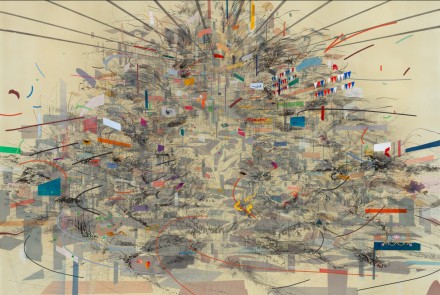 Description
Julie Mehretu. Empirical Construction, Istanbul, 2003. Source: MoMA
Image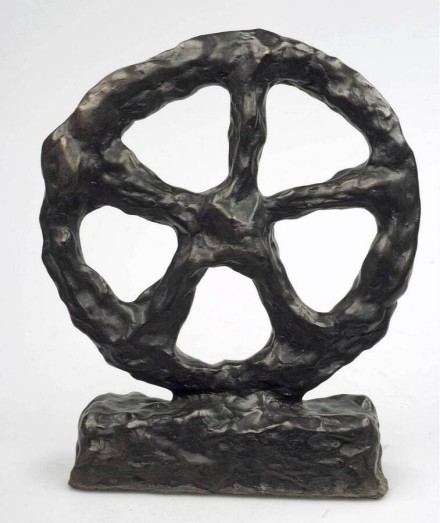 Description
Armando. Das Rad, 1993. Source: Kröller-Müller Museum
Image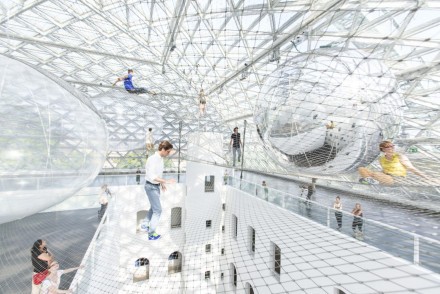 Description
Tomás Saraceno. In Orbit, 2013
This was the finale of the four-episode podcast series Constant 1-on-1, which dives into Constant's practice as an artist, his life and the context in which he operated and built his oeuvre. It is a journalistic and musical quest diving into the archive of the artist and questioning contemporary artists about the relevance today of a legacy like this one. If you haven't already, learn more about Constant's art and life in episode 1 (Visionary), 2 (Designer) and 3 (Playing Man).
Credits
Constant 1-on-1 The podcast is a production of Fondation Constant and was made by Ans Boersma and Thijs van Elten.
Content editing: Kim van der Horst, Thijs van Elten and Ans Boersma.
Fact checking: Mia Lodder and Kim van der Horst.
Music: Freek Dijkstra
Music performance: NEEF. with guest musicians Madelief Lammers, Tomás Gomes, Mozes Schrijvers and PEER.
Leader: Aafke Romeijn.
Editing: Ed Spil and Thijs van Elten.
Sound fragments: Documentary "Constant, avant le départ" (2005) by Thomas Doebele and Maarten Schmidt — Het Uur van de Wolf
Constant 1-on-1 the podcast is supported by:
Amsterdams Fonds voor de Kunst, Fentener van Vlissingen, Gifted Art, Iona Stichting