Genre
Krona is more than a museum. It is a unique place in Uden where you can relax, even if only for a while. The wide monastery walls give you access to this special, tranquil place, unfolding the tales told by the monastery, the unique collection of religious art and the ever surprising exhibitions. This is where old masters and contemporary art meet. All this makes you wonder, as do the guided tours, special lectures and (family) activities. When you visit, make sure you take the time to taste the delicious delicacies that are served in the Refter and on the spacious terrace of the beautiful herb garden. You can visit all year round.
Image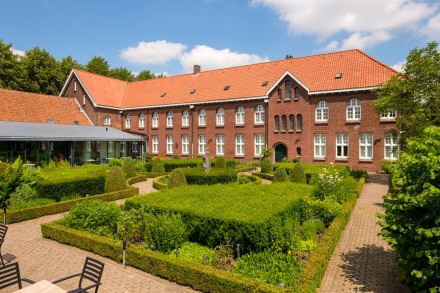 Image
Image
In 2004, Museum Krona received a gift from a private collector. It was an exceptional work by Constant, a pastel from 1975: 'Die Beschneidung Christi nach Joerg Ratgeb'. The circumcision of Jesus, or Circumcisio Domini, was not a theme in the visual arts of the 1970s. It was, to a limited extent, in the sixteenth century, as is apparent from the reference to 'Nach Joerg Ratgeb'. Joerg Ratgeb was a German painter-engraver, whose style was influenced by Matthias Grünewald. He was born in 1480 and he died in 1526. 'Die Beschneidung Christi nach Joerg Ratgeb' (according to Jewish tradition eight days after birth) forms the center of a small presentation of Constant's religious works, mostly from his early and late coloristic period.

The exhibition at Krona Museum brings together the religious works and a number of utopian and socially engaged works by Constant and shows them in combination with the late Gothic work from the collection of Museum Krona.
Image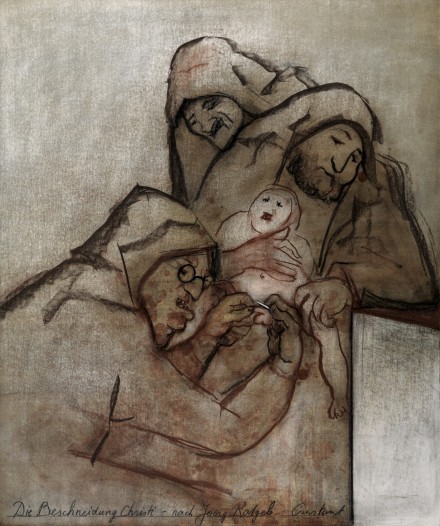 Description
Die Beschneidung Christi - nach Joerg Ratgeb, 1972
Image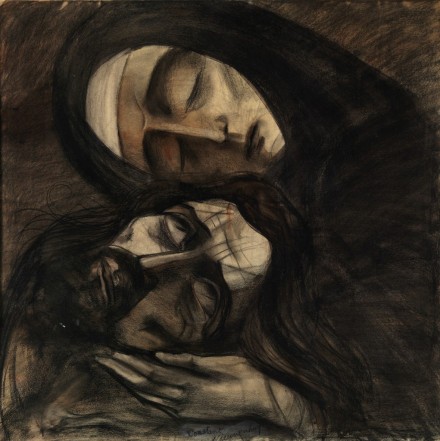 Image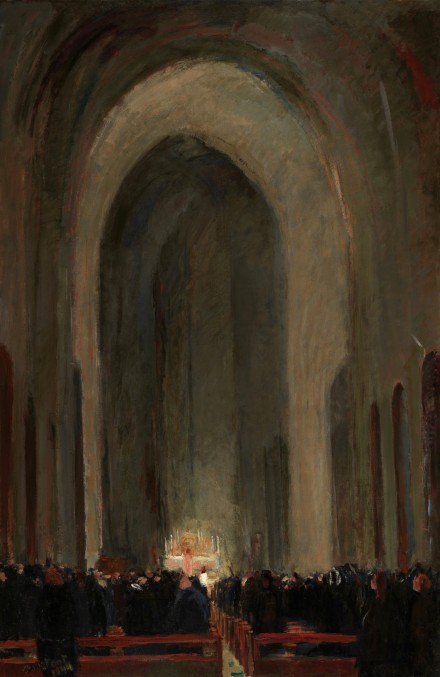 Description
Interieur van de Willibrorduskerk tijdens de hoogmis, 1944
Image
Constant and Religion
Museum Krona has been collecting contemporary, religious art since the late 1980s and has since built up an important collection in this field. Constant's circumcision is still an outsider within that collection. In terms of theme, but also within Constant's oeuvre. The number of religious works in his ouevre is limited. It is especially in his early years, between 1935-1945, that he ventures into subjects such as the Pieta, the Sermon on the Mount and a depiction of the interior of the Willibrordus (outside the Veste, on the Amstel in Amsterdam. a Cuyperskerk, which was demolished in the 1970s). Later, Constant exchanges those explicit subjects for more socially engaged, utopian themes. In doing so, on the one hand, he distances himself from his youth (Catholic environment, educated with the Jesuits in Amsterdam), but on the other, he also gives substance to his connection with the ideals that stem from faith, their social commitment.
Team
Wouter Prins (curator), Debbie Jans (marketing)