Bicycle Tour to the Gate of Constant
Partner
Theme
Image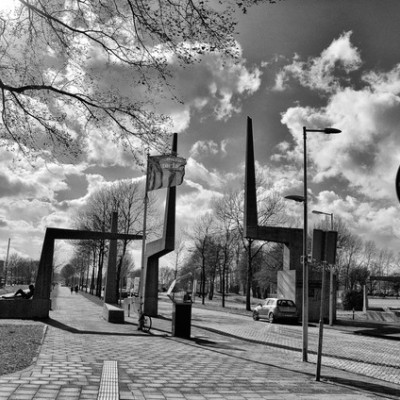 Description
Stop 9 Poort van Constant | Photo's Rob Loos
Image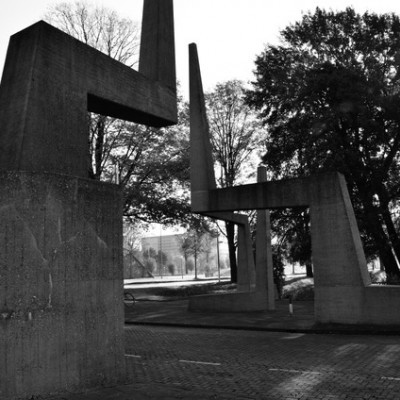 Image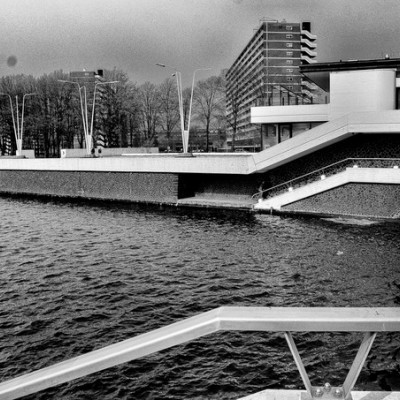 Image
Image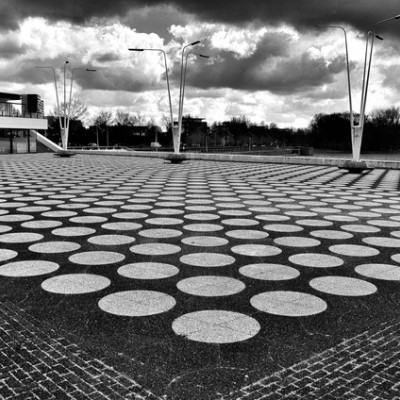 Description
Stop 2 Oostoever Pavement
This year the Fondation Constant is celebrating with the Constant 1 0 1 project that visual artist Constant Nieuwenhuys (1920-2005) was born 101 years ago. The artist, better known as Constant, was a member of the progressive art movement CoBrA, of which he is seen as one of the founders. Especially for this special Constant Year, artist and Van Eesteren volunteer Rob Loos is making a bicycle tour to the Gate of Constant for the Van Eesteren Museum and Constant 1 0 1.
Involved partners
The Gate of Constant is a striking work of art, monument and plastic sign in one that stands at the entrance of the Ookmeer sports park on Troelstralaan near Herman Bonpad in the Geuzenveld district in Amsterdam Nieuw-West. It seems to be a cross between a building and visual art. Due to the added benches, it is also used, for example, to sit on. The artwork appeared in 1963 at the entrance as a 'gateway' to the western part of the sports park and was designed by and named after Constant Nieuwenhuys.
The artwork consists of thirteen meters high concrete bent pillars of different lengths and at different angles. That's impressive above ground. However, most of the artwork is underground and cannot be seen. It has a pile foundation of 28 piles, each thirteen meters long, on which a 20 cm thick set floor has been placed. All in all, an interesting work to explore further.
On the way to the Poort van Constant, the cycling tour takes you past several other gateways to the Western Garden Cities, such as the Conny Rietschoten Bridge, and architectural highlights in New West, such as the Oeverzicht catering building (the former East Bank) designed by Dick Slebos and the Hogguerflats van Piet Zanstra. We also pass various wall artworks along the way, such as Phoenix by artist Raymond Both on one of the Hogguerflats.
Distance: about 5 km
Duration: approximately 1.5 hours
Tip: have a drink at Hotel Buiten, Th.J. Lammerslaan 3, 1064 DH Amsterdam
Date: Sunday 11 July 2021 and Sunday 22 August 2021
Departure time: 1.30 pm
Start location: Noordzijde 31, 1064 GV Amsterdam