Exit and Enter New Babylon - Archined
A 'theatrical virtual and mixed reality installation' gives access to Constant Nieuwenhuys' New Babylon and immediately confines you in it. Fortunately, there is a paper boat ready to row away with.
An article about the VR installation Enter New Babylon by Martine Bakker for Archined.
Read the article (in Dutch) here. 
Image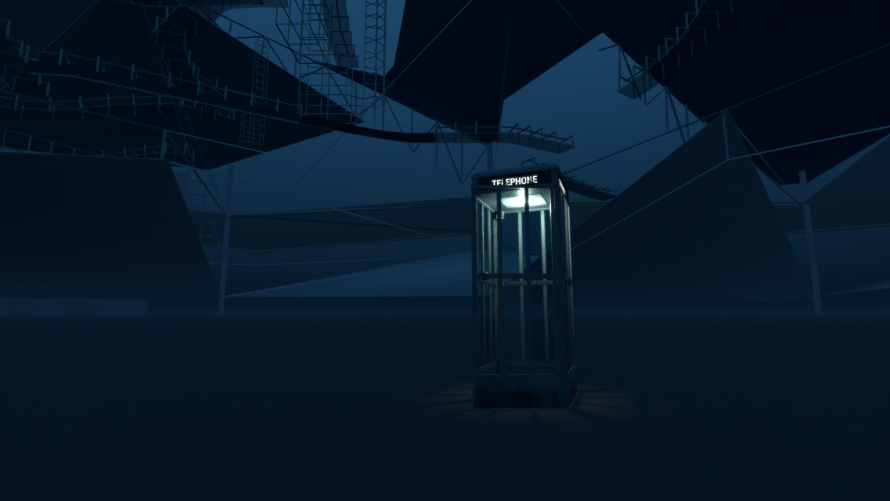 Description
Film still 'We willen onze dagen niet vullen met spijt'
Eighteen years of his life, from 1956 to 1974, Dutch artist Constant Nieuwenhuys built the ideal place for homo ludens: New Babylon. It was a direct reaction to the, in his eyes, mind-numbing reconstruction districts of that time. New Babylon consists of dozens of drawings, collages, paintings, lithographs, texts, films and models. Together they represent a network of 'sectors', lifted from the ground and sometimes consisting of several floors. A labyrinthine construction where man is free, his creativity is nurtured, and art enriches everyday life.
New Babylon is intended for a future in which technology has taken over all work. That way there is plenty of time to wander around situationally, by feeling. It was an influential project. It is rumored that the architects of Hoog Catharijne in Utrecht were inspired by New Babylon around 1965. Which was still detectable in the beginning, in the different levels of Hoog Catharijne and the presence of a theater, but eventually turned out completely differently. Mind-numbing capitalist consumerism was not what the outspoken left-leaning Nieuwenhuys meant. For example, land was collectively owned in New Babylon.
Enter New Babylon shows that it is still not easy to take up the ideas of Constant Nieuwenhuys. This quadruple VR installation with mixed media, i.e. digital and analogue attributes, was recently on display at Impakt Center for Media Culture in Utrecht. At the initiative of the Fondation Constant, six young writers from Poetry Circle Nowhere worked out scenarios, scripts and designs with five designers from the HKU under the supervision of Joris Weijdom. Frank Bosma digitized it for VR and scenographer Guus van Geffen made the design plan for the exhibition space.
At Impakt, the four VR setups are located in a large room, with a corridor along one wall with waiting booths and 'private' entrances to the setups. There are anarchist protest posters in the waiting room and manifesto slogans by Nieuwenhuys in the exhibition hall. Three assistants subtly guide visitors in their digital world to 'live' objects such as a bucket of sand, a hanging bucket seat, a mountain of cushions, a bicycle or a telephone booth. And help with those weird, top-heavy glasses.
Image
In the experience entitled 'We don't want to fill our days with regrets' — the visitor 'enters' via the phonebooth — the sun sinks into the sea next to the well-known New Babylon sectors. The technology remains palpable here, especially because the VR image and the object are out of sync — I clearly saw the door of the phone booth virtually, but my hands had to search for it. There is something charming about this piece of wood, it echoes the sometimes messy-looking collages of Nieuwenhuys. As fantastic as it is at first to see New Babylon around you, it soon gets boring. You can't do anything else there.
That feeling becomes stronger in Blooming New Babylon. The visitor slides here in a cable car through New Babylon: up, down, sideways. However, the virtual buttons in the cart only work if it fits the storyline – I want to get out on the mezzanine floor, intrigued by the announcement that the 'non-homo ludens' are staying there, but I cannot. The experience 'The past of a future city' is, if possible, even more controlling. Close to the twinkling lights of a Ferris wheel and the merry sound of a carnival, the voice of a know-it-all Gutmensch harrasses me almost maddeningly about details like the world's payment system.
Fortunately, there is the flooded version of New Babylon that also seems to have been turned upside down: 'Echoes of Oblivion'. In this vision of the future', climate change took its toll, but no disaster, it all looks beautiful in light colors, with contours that flow dreamily. A boat folded from paper is waiting at a jetty. The oar makes a gentle splash while cruising. The makers of this reality cleverly inserted Nieuwenhuys implicitly: the amazement, the nomadic, a certain nonchalance, the irrelevance of time. I fished a luminous clock out of the water and draped it behind me in the boat with my oar which suddenly had a net was attached to it. What a wonderful feeling, time as a loose option instead of a compelling notion.
Image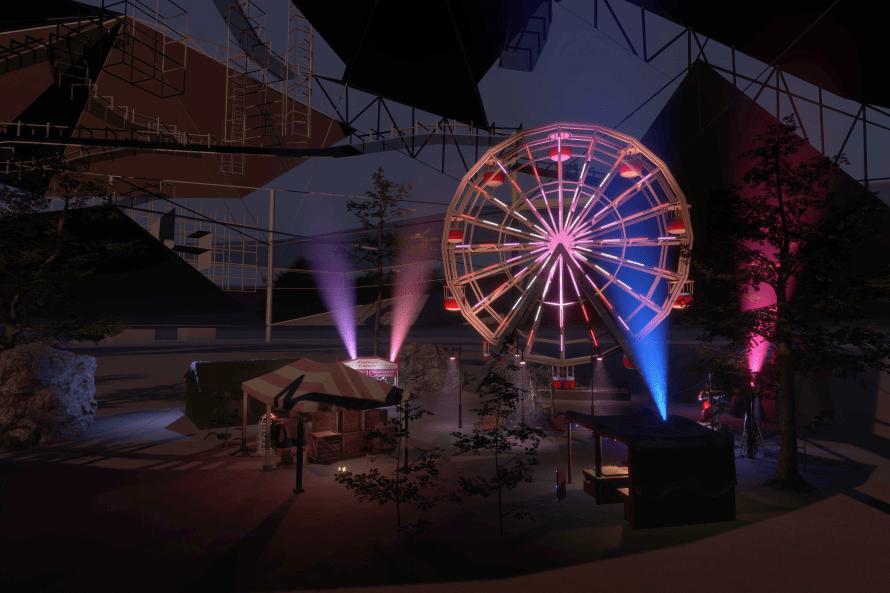 Description
Film still 'Verleden van een toekomststad'
Two benches in the exhibition hall give a view of the four installations. They are placed to wait for your turn between VR experiences, or to recover from the latent nausea that is also part of VR. This is the best spot of Enter New Babylon in my opinion. The image of the three routine, taciturn assistants, who point a fan at a bespectacled visitor here, guide a few feet towards the sand there, sometimes mutter an excuse and quickly repair something, contributes greatly to the alienation that the four Babylons experience on already accomplish itself.
This is the back of reality, the organization that makes the four realities possible. Usually you don't switch so quickly from one parallel world to another. Especially because of the visible boundaries between those worlds, and at the same time their overlap, Enter New Babylon appeals to the imagination. The actual reality – Utrecht on Saturday afternoon – suddenly seems like a possible idea, I almost put my fingers out on the street, groping. For example, Enter New Babylon serves exactly what Constant Nieuwenhuys means on a meta level.
Information
Martine Bakker is an architectural historian. She works freelance as editor-in-chief, critic and researcher, is a copywriter at cepezed architectural firm and is on the editorial board of the yearbook Landscape architecture and urban development in the Netherlands.
ENTER NEW BABYLON is programmed at IMPAKT Utrecht from 29 September to 15 October and was part of Contant 101, a program in honor of Contact's 101st birthday. Previously, Enter New Babylon could be seen during the Over het IJ festival in Amsterdam.
We don't want to fill our days with regrets: Morgan Henry and Bianca Lurvink (design), Jasper Albinus and Roziena Salihu (text)
Blooming New Babylon: Emma Bourguignon (design), Nina Vermeulen (text)
Echoes of forgetting: Aina Mora Roca (design), Steff Geelen (text)
The past of a future city: René 't Hart (design), Nabil Tkhidousset and Luna Wicks (text)
Lighting plan: Juriaan Gregor