Image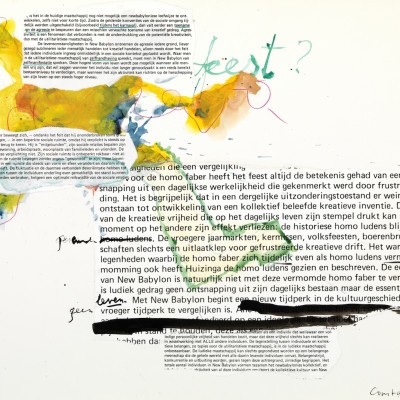 Description
Theorie collage New Babylon nr. 7, 1974
Image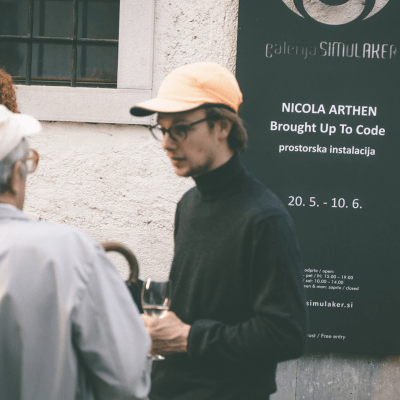 Image
Description
Ondersteuning van een sector, 1960
Image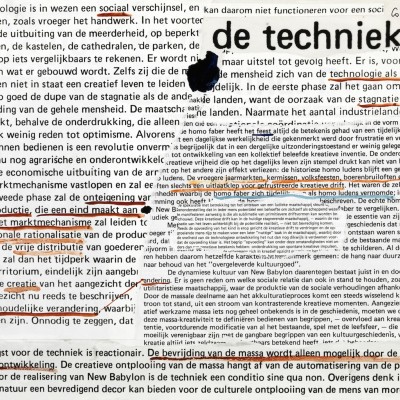 Description
Theorie collage New Babylon nr 5, 1974
Image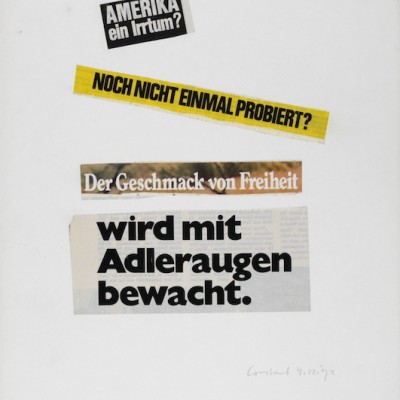 Image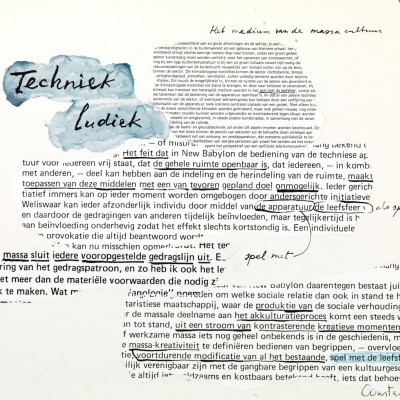 Description
Theorie collage nr. 6, 1974
Am I an Object, the exhibition series that will run from May 2021 until March 2022, will loosely address the dissolving boundaries between the body and the object, featuring solo projects by Christine Moldrickx, Nicola Arthen, June Crespo, Tako Taal (in collaboration with David Dale Gallery Glasgow) and Suchan Kinoshita. The contextual program will consist of texts and events, moderated by students of the Sandberg Institute's Critical Studies Department. Nicola Arthen's site-specific project for P////akt reults in a solo exhibition that will take place in July-August 2021. The project shares common traits with Constant's vision and oeuvre.
Involved partners
With the story Nicola Arthen is currently researching for his project at P/////AKT, he traces the remains of an architecture – the initial 'Grand Museum' of the Kröller Müllers.
In the fact that it has never been built, it shares a clear parallel to Constant's visionary architecture.  However, unlike the model-state of New Babylon – with its theoretically and materially flexible state of potential – the initial Kröller Müller museum had already involved materially heavy transactions such as the transport of sandstones, the laying of train tracks, the introduction of a new species of moss and streams of iron ore and money crossing countries. Remnants of this will enter the exhibition space of P////AKT during the upcoming exhibition.
Similar to Constant, Arthen has an interest in artificial landscapes and is curious whether this contains nevertheless a romantic, necessary (?) notion: the liberation of time and space in order for a nomadic (read: earth-bound) way of living to take place.
Also, the search for something atmospheric and sublime in technological structures resonates with Arthen. In Ondersteuning van een sector (1960) and other drawings of the sector's support structure, there is such detail and dedication to – what after all is – a structural element. Often, the atmosphere created by the support structures on the ground is imagined quite particularly in Constant's drawings.
For Arthen, it's striking that Constant's ideological project is literally detached from the ground as if on a separate level, not bound to the same conditions – or – as a means to keep the earth's terrain liberated from any sealing structures. As a place to roam?
The content of Theorie collage New Babylon no. 5 (1974) feels like the inspirational notes some artists have on their studio wall and that sometimes are so refreshingly frank.
Constant seemed to see a categorical, liberating factor ("of the masses") in technological development. Would he have known about Universal Basic Income? Surely, he would have been a supporter of it. Looking at his bold collages like Amerika ein Irrtum? (1972), Arthen wonders whether Constant guessed the flip-side of technological development resulting in the neoliberal-convenience-driven-big-data-echo-chamber-commercialisation-complex we find ourselves logged into fifty years later.