Wanted: Volunteers for Enter New Babylon!
Looking for a fun way to be involved with the theatrical mixed reality installation, Enter New Babylon? Read on!
NB: Deadline 25 September!
Dear volunteer,
From September 29 to October 15, the virtual and mixed reality installation "Enter New Babylon" will be on display at IMPAKT.
Enter New Babylon is a virtual reality project that explores the possibilities and limits of a future world for creative nomads. Put on your headphones and step into the elusive world of New Babylon. It is the home of the Homo Ludens (the playing man) and was conceived in the 1960s by the Dutch painter Constant Nieuwenhuys (1920-2005). Young, activist spoken word artists and designers reflect on the New Babylon project through virtual and mixed reality in a theatrical installation consisting of four 'experiences'.
For more information, visit the project page.
For this project at IMPAKT we need volunteers to receive the guests, help set up the VR glasses, monitor them while they are in the experience and guide the guests in and out of the experiences . This guidance is necessary because it concerns a mixed reality, which means that some objects do not only exist in the virtual world, but also as real objects.
We need three people per day, from 12-5pm Wednesday to Sunday, October 28-15. We prefer to work with a pool of volunteers who can each work for a few days so that Ruben Coers, the floor manager, does not have to keep briefing the team. Having said that, don't let that hold you back from volunteering :)
Volunteer fee is 25€/ 5-hour shift.
We will be holding a try-out on Tuesday 27 September and a preview on Wednesday 28th, which is a good time to come by and experience the four experiences in the installation for yourself.
You can let us know if you are available to run a shift via this LINK.
We look forward to seeing you there!
Image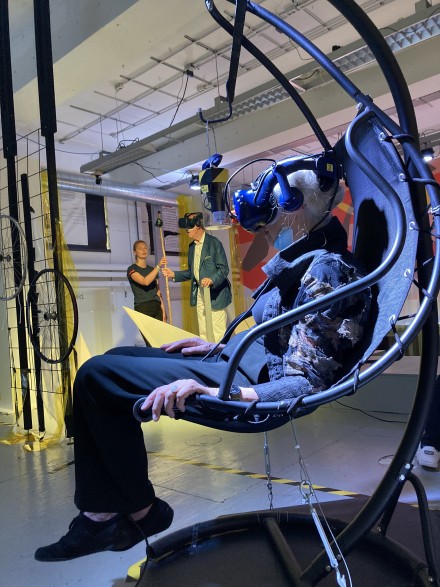 Image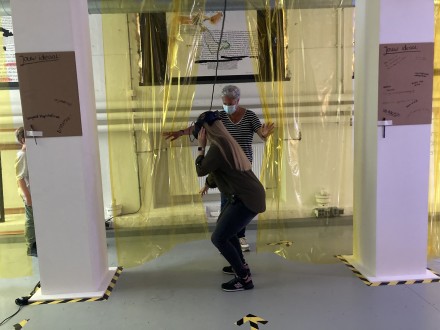 Image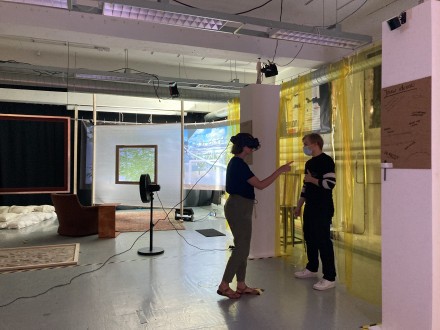 Image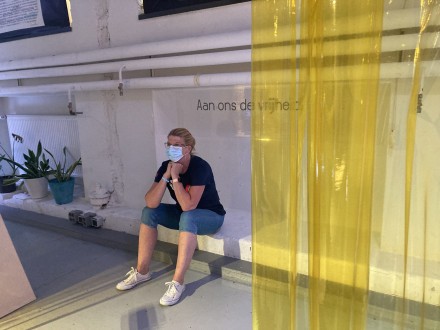 Image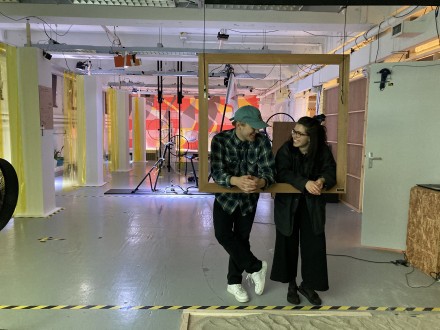 Nederlands
Beste vrijwilliger,
Van 29 september tot en met 15 oktober staat de virtual en mixed reality installatie "Enter New Babylon" bij IMPAKT.
Enter New Babylon is een virtual reality-project dat de mogelijkheden en grenzen van een toekomstige wereld voor creatieve nomaden onderzoekt. Zet je koptelefoon op en stap in de ongrijpbare wereld van New Babylon. Het is de thuisbasis van de Homo Ludens (de spelende mens) en werd in de jaren zestig bedacht door de Nederlandse schilder Constant Nieuwenhuys (1920-2005). Jonge, activistische spoken word-artiesten en ontwerpers reflecteren op het New Babylon project via virtual en mixed reality in een theatrale installatie bestaande uit vier 'ervaringen'.
Voor meer informatie kijk op de projectpagina.
Voor dit project bij IMPAKT hebben we vrijwilligers nodig om de gasten te ontvangen, te helpen met het opzetten van de VR bril, ze in de gaten te houden terwijl ze in de ervaring zijn en de gasten te begeleiden bij het in en uitgaan van de ervaringen. Deze begeleiding is nodig omdat het gaat om een mixed reality, dat houdt in dat sommige objecten niet alleen in de virtuele wereld bestaan maar ook als echte decorstukken.
We hebben drie mensen per dag nodig van 12-17u, woensdag-zondag van 28 tm 15 oktober. Het liefst werken we met een pool van vrijwilligers die elk een paar dagen kunnen draaien zodat Ruben Coers, de floormanager niet steeds opnieuw hoeft te briefen. Maar laat dat je niet tegenhouden om te reageren!
Vrijwilligersvergoeding is 25€/ dienst van 5 uur.
Op dinsdag 27 september houden we een try-out en op woensdag 28 een preview, dat is een goed moment om langs te komen om de vier ervaringen in de installatie zelf mee te maken.
Je laten weten of je beschikbaar bent om een dienst te draaien via deze LINK. 
We kijken ernaar uit jullie daar te zien!
Time and place
IMPAKT [Center for Media Culture]
Lange Nieuwstraat 4
3512 PH Utrecht

Enter New Babylon
Dates 29 september till 15 October
Wednesday till Sunday
From 12h till 17h.